Whether you're a big fan of Valentine's Day or think it's a glorified Hallmark holiday, it exists. And, your partner may want a couple extra smooches regardless of how you feel. If you're like me, you love LOVE, so any day dedicated to celebrating your sweetie is fine by me.
But what if you're just starting a relationship? Do you buy him flowers or send her jewelry? What if you send the wrong message and they think you are crazy? If this is the case, they weren't meant for you anyway. However, sometimes there is a fine line that you may not be ready to cross. If you're struggling with how to show your new, or long-term, lover how awesome they are, here's some gift-giving advice for Valentine's Day.

Write them a love letter.
You can't go wrong with a good old fashioned love letter outlining all the reasons your partner makes you smile. Seriously! This is the easiest gift that keeps on giving. Not great with words? Write a haiku or short poem. At least she'll get a kick out of it.

Make a dinner ressie.
The obvious. My favorite local eateries include:

Cook dinner at home.
Even better than a romantic dinner out? Show your cutie pie that you can own the kitchen. Not sure what to make? Head over to Pinterest and type in "easy romantic recipes". Voila!

Flowers.
Not just any flowers. Get your honey some fresh-picked glorious flowers from my buddy's company, The Bouqs.

Buy a small gift.
Something that says "I like you enough to get you a gift, but not an expensive one since I don't know where this is headed."
A few of my favorite go-to local shops:
And, if you're really struggling, let the folks at Please and Thank You deliver your sweetie the best chocolate chip cookies in the world and a mix tape: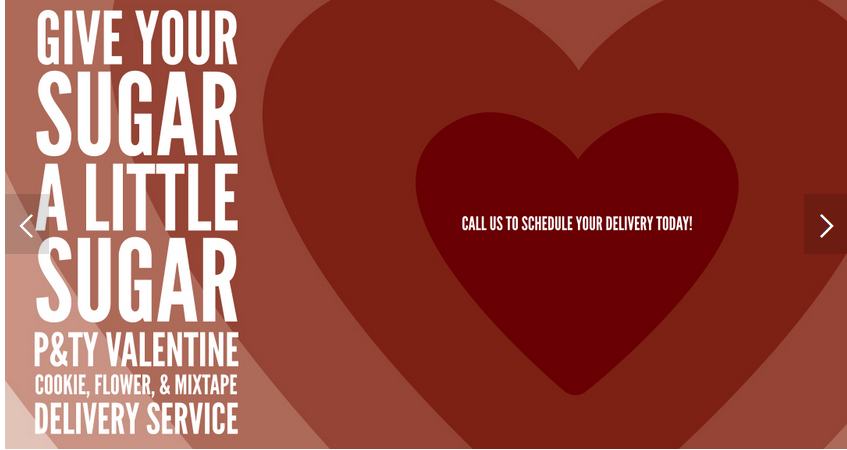 Hope you get lots of love this weekend.
Thanks for reading!
xo, Twiggy