In today's world, a wedding is not only the joining of two people in matrimony and love, it's a production! Having just been a bride, I get it. You scour the interwebs to find the most unique way to stand out and have your guests proclaiming, "Wow, I've never seen that before!"
Oftentimes, finding something that is ultra-unique is ultra-tough. Let me help!
You already know that Twiggy Bridal offers the most unique, custom bridesmaid gifts. You can even order a custom portrait of the Bride + Groom decked out in their wedding attire to showcase at the reception, but did you know that Twiggy now offers the most unique alternative to the traditional guest book?
Introducing: Twiggy's Guest Book Painting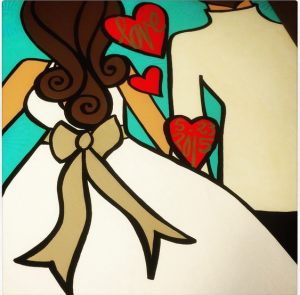 My handsome groom wore an off-white tux jacket which made it easy for people to write in black, however, if your groom wears a darker color, I would recommend using silver or gold pens.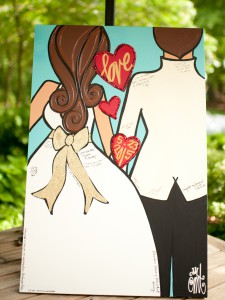 Next to the Guest Book Painting was a sign that read, "On the dress or the coat, sign your name or write a note!"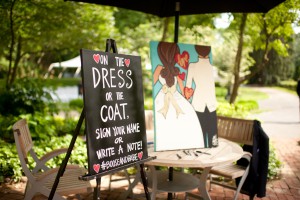 Our painting is currently in our kitchen so, every morning as I wait for the coffee to brew, I get to read all of the sweet notes people wrote. It's such a fun reminder of our very special day.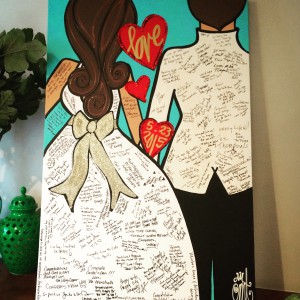 Prices for the Twiggy Guestbook Painting vary by size and start at $300. Contact Twiggy to order yours today or buy now!